State and DEA Tell Pain Patients to "Drop Dead"
(Photos and graphic by Skip Baker, American Society for Action on Pain)
One of the saddest and least noticed consequences of the war on drugs is the under-treatment and non-treatment of chronic pain. Literally hundreds of thousands of patients endure needless agony -- in some cases turning to suicide for relief because they could not find a doctor willing to prescribe adequate doses of narcotics for them. The problem is two-fold: widespread ignorance on the part of physicians on chronic pain treatment and unreasonable fear of causing addiction; and a threatening law enforcement bureaucracy that can ruin or even incarcerate doctors whom they see as being too liberal with their prescriptions. These two factors play into each other to perpetuate a situation in which denial of pain relief is standard practice.
| | |
| --- | --- |
| | The enemies in the battle for pain relief are state medical boards and the Drug Enforcement Administration. In a recent, reckless action, the Virginia and District of Columbia Boards of Medicine revoked the license of Dr. William Hurwitz, one of the few physicians willing to stand up for patients' rights to pain medication, leaving his more than 200 patients nationwide with empty medicine bottles and nowhere to turn. The board's action had been initiated following the deaths of two of his patients; however, expert testimony had essentially disproven the state's allegation that Hurwitz was at fault. As one of Hurwitz's patients, a prominent attorney, wrote: "The chilling effect this type of action has on the willingness of any physician to provide legitimate treatment for persons with chronic pain cannot be overstated. We will essentially be orphan patients given the right to unobstructed assisted suicide by the federal courts, but no right to a decent quality of life by any as-yet recognized body of law. These stark choices are familiar to many of us, and we must take action now before the Board itself visits upon us a 'substantial danger' to our health and safety." |
| | |
| --- | --- |
| Hurwitz's patients did take action, traveling from all over the country to Richmond, VA, packing the hearing room in June and again in July to show support and to testify. Due in large part to their efforts, the issue received widespread media coverage, including reports by two national news networks. In the process of trying Dr. Hurwitz, the Board of Medicine embarrassed itself multiple times; for example, their star witness, a former Hurwitz patient, turned out to be a convicted felon and perjured himself repeatedly while testifying against Dr. Hurwitz and then left town. At one point this witness failed to show up; the Assistant Attorney General representing the state, Richard Rizk, was reportedly overheard on the telephone saying something to the effect of "Frank, you'd better get that prescription dated the 29th, here to me now or else!" Mr. Rizk had earlier provoked laughter from the attendees when he objected to Dr. Hurwitz's attorney reading the text of Virginia's intractable pain law into the record. (This is a law which is intended to protect doctors who prescribe narcotics for pain and to which the medical board supposedly is subject.) Following the board's decision, the Virginia pharmaceutical board took the license of Jerome Danoff, owner of the Medicine Chest, the pharmacy that had filled most of Dr. Hurwitz's prescriptions. | |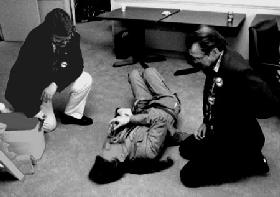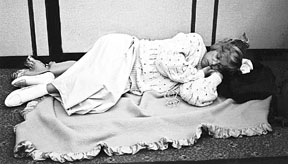 Some of the Patients in attendance were incapacitated by undertreated pain.

The most outrageous actions, however, have been perpetrated by the Drug Enforcement Administration and other narcotics agencies. One Hurwitz patient, whose x-rays reveal a bone spur sticking directly in a nerve center, was unable to find a physician willing to even consider giving her narcotics, because a DEA agent from the field office in her state visited doctors in her area and told them she was a drug addict. (The DEA can initiate criminal proceedings against doctors who provide narcotics to addicts, so even if a doctor believes the patient is suffering, he or she is unlikely to be willing to take the risk of prescribing adequate medication. We have withheld the names of both the patient and the DEA agent, for the protection of the patient.) This patient had been lobbying the state legislature for passage of an intractable pain law; now she is literally considering seeing Dr. Kevorkian for the relief she is not permitted in life.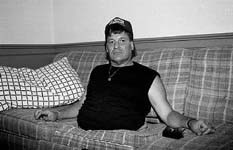 One of the patients to testify on Dr. Hurwitz's behalf was Jim Klimek. Klimek lost all his body beneath his waist in an auto accident. A publication of the Virginia State Police, called the Prescription Drug Game, warns "Physicians should be alert for 'Professional Patients' showing up in wheelchairs missing various limbs." Did it occur to them that persons with missing limbs might actually be in pain?
In some cases thedrug police's actions have reached the level of thuggery. Another patient spent a night in jail after getting a prescription filled that had been written by Dr. Hurwitz while his prescriptions were still legal. She wrote: "I was standing in front of the counter and a man grabbed my arm and said Regina, don't make a scene. Walk outside with me. I want to talk to you. I told him my name's not Regina, I'm not going anywhere with you, who the hell are you? Mind you this man looked like he had been jogging. I started to yell. He said he was a cop for Metro Prescription Fraud Narcotics Unit. I told him again I was not Regina. Detective asks who are you and why are you here? [Name omitted], and I'm in a pharmacy; why do you think I'm here? I thought I was going to have a heart attack right then and there as young as I am. The detective told me I was under arrest and I'd better go outside quietly with him. He searched me and took my bottle of medication from my purse. At this time he put me in a van and took me to his office and questioned me and made me pull my shirt up (to check for weapons) he says. But Skip, during questioning all this detective talked about was how he was going to get Dr. Hurwitz or he was going to get his patients. Said he would love to be the one to go into Dr. Hurwitz's office and bust him and his nurses. By the way, the detective kept all my medication that was in my purse."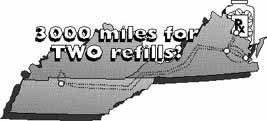 Klimek travelled thousands of miles looking for a pharmacy willing to fill his prescription.
After the Virginia Board formally took Hurwitz's license on August 12, Dr. Hurwitz said "The Board of Medicine has told my patients, 'Drop Dead.'" A 42 year old Hurwitz patient from upstate New York has already opted for the suicide solution. This patient had been seeing Dr. Hurwitz for three years for back and neck pain due to injuries sustained in an auto accident. His pharmacy refused to fill Dr. Hurwitz's District of Columbia prescriptions after learning of the Virginia medical board's action, despite his having been on a stable regimen for over a year. With the help of a member of the AMA Council on Ethical and Judicial Affairs, Dr. Hurwitz was able to make arrangements for the patient to be treated at a clinic in New Jersey and flown there for free. The patient had run out of medication, however, and didn't feel he could make the trip without them. No local clinic was willing to provide him with a short-term prescription. In the meantime, a SWAT team of the local police, having been notified of a possible suicide, surrounded his house. The patient, a former policeman himself, proceeded to take his own life.
Skip Baker, President of the American Society for Action on Pain, used a stack of books to demonstrate how much weight he lost while waiting for the medical college of Virginia to approve his prescription. Skip starved himself because it made the weak prescription he had last for more of the day.

The pain control controversy has international dimensions. An article in the New York Times last June 22 reported that pain patients in Mexico, other than the most wealthy, are prevented by the government from obtaining morphine. Mexican regulators worry that the United States will oppose any attempt to increase the availability of morphine because it could find its way into the illicit market. One doctor even charges that the US Drug Enforcement Administration has interfered in legitimate drug shipments to Mexico. Dr. Juan Ignacio Romero, who headed the World Health Organization's Cancer Pain Relief Program in Mexico from 1988 to 1990, said that in 1988, the DEA scuttled a plan to import about 10,000 tablets of a narcotic called Dilaudid. "They were afraid we would not be able to control the morphine and that it would end up on the black market in the United States," Romero said. "That's an insult."

DRCNet's position is that it doesn't make any difference whether morphine gets into the black market from Mexico, because there have always been and will always be enough narcotics on the illicit market to fill the demand for them, regardless of what governments do, here or abroad. Keeping drugs away from non-medical users is impossible; but even if it weren't, it still wouldn't justify keeping them away from patients who need them.
Dr. Hurwitz and some of his patients are continuing to fight the case in state and federal court. The case has already had far reaching ramifications for pain treatment, and its final outcome may make the difference between sanity in medicine or continuation of the "hidden holocaust" we have today. Total cost is expected to run as high as $250,000. You can contribute to Dr. Hurwitz's defense by sending a check to his attorneys, Tate & Bywater, 2740 Chain Bridge Rd., Vienna, VA 22181; Make sure to indicate on the check that it is for the Dr. William E. Hurwitz Legal Defense Fund.