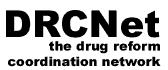 petition
Drug War Bills Threaten Free Speech

Tell a Friend - WRITE TO CONGRESS - Background/Alert
text of H.R. 2987 - text of H.R. 833 - Make a Donation -
Write to Us - Important Links - Subscribe for Free

SCROLL DOWN TO SIGN THE LETTER. PRESS "NEXT STEP" BUTTON TO SEND AND GET YOUR REP'S PHONE#.